I talked to 11 different people this week.
Eleven!
More than 1 individual human person per day on average.
In my typical week, I spend most of my days bunkered up in a studio surrounded by whiteboards.
Interaction with humans is banned. I have rules for that.
I meet people, sure. But I must average something like 2,4 people per week, never 11.
Human contact in double digits is a health hazard for an introvert.
I talked to 11 people this week mostly because I'm doing interviews for a book. I'm trying to understand how others think about work, doing what they enjoy, money, learning new things, and other adjacent topics.
I did 7 interviews. It went well. I don't know how well because I haven't crunched the data from my notes yet.
But doing good interviews isn't difficult. You just need to ask a good question, shut up, and listen. Only talk to ask follow-up questions. Don't jump in with your stories or ideas or opinions.
Because when you're trying to understand how the other person thinks, you talking most likely means you're doing a bad job at that.
Also, don't feel like it's your job to fill silences. Silence is amazing. And I'm not saying that because silence is my second favorite thing in the world.
Okay, I'm biased. But hear me out.
Silence in interviews is working for you. The best insights in my conversations of this week emerged from prolonged silences.
It worked like this:
The interviewee finished a thought,
I started quietly searching for a question to ask next,
and before I found it, they filled the silence with some unprompted gem of an insight.
That's the beauty of silence. It helps people think, plus they have an urge to fill it with ideas. So people will say what they might otherwise not say, just to fill the silence.
I'm now considering it as a new interview strategy – just pretend I'm searching for the next question. Then, as I rumble through my notes for what feels like a never-ending silence, the other person can't do otherwise but drop some remarkable insight.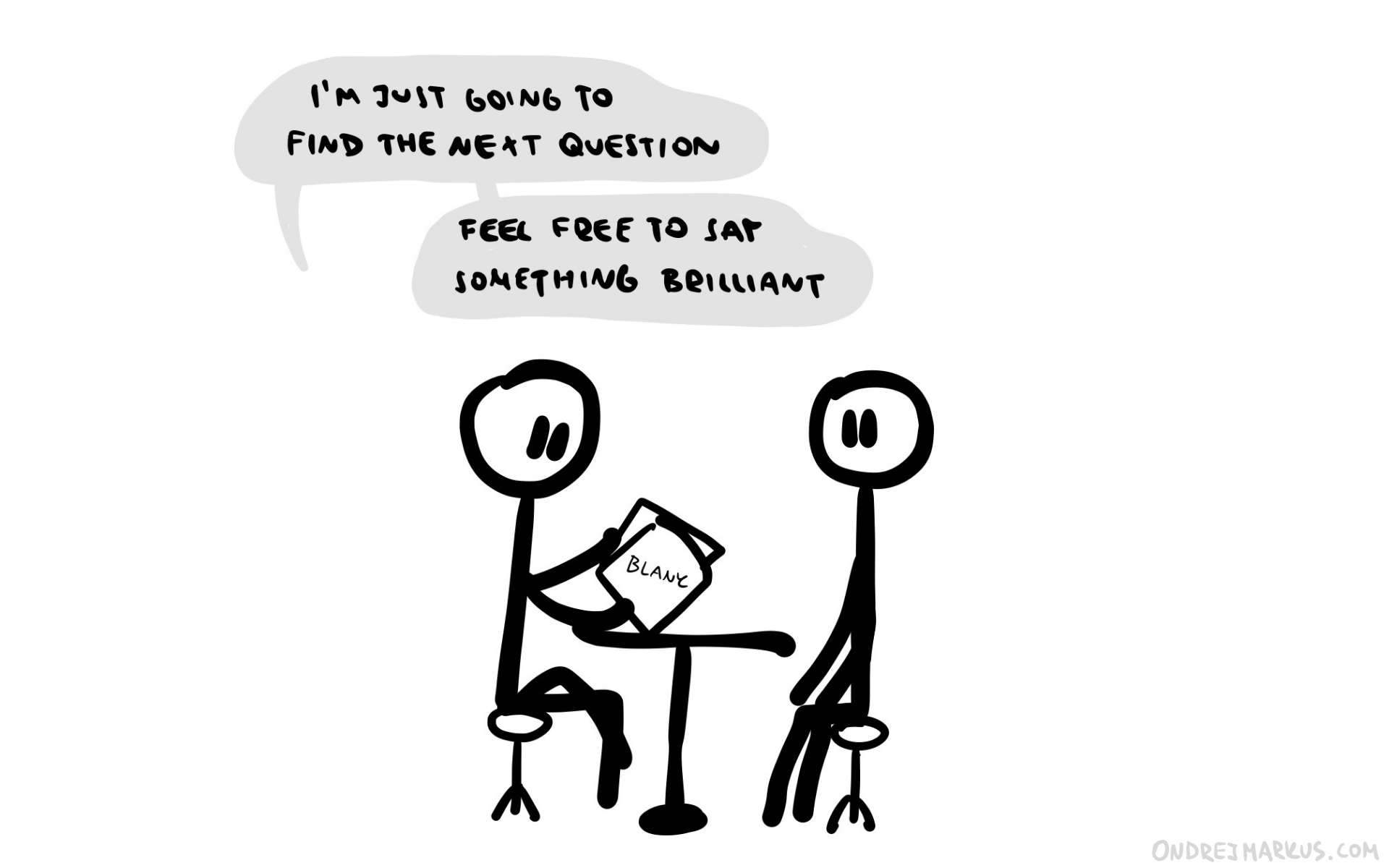 I'm doing another round of interviews this week.
If you enjoy and/or hate long silences and would like to chat with me about how to make a living doing what you enjoy, reply to this email, and it's a date.