What the work happened #6
My made-up job, annoying money, and building a network
---
Hey there 👋
I put a lot of time into writing these reflections because I want them to be useful for other makers, not just my monthly ramble.
So today, I want to zoom in on what burns me – my money situation:
How I think about having $0 profit from my online business?
And what's my plan to start building a sustainable passive income?
Let's begin.
I have a made-up job
I'm 27, and it's a year since I started developing this odd lifestyle for myself. I gradually drifted away from a full-time design job to writing, learning, and building stuff online.
June was the first month I spent as a full-time solopreneur.
It's often frustrating, it lacks the security of a 'normal' job, and I struggle to explain to my mom what the hell I'm doing for a living.
But all of that is okay. It's okay because I love this life.
Freedom is contagious. And I'm afraid I made myself unemployable because I just couldn't deal with someone else's bullshit anymore.
Although, doing this as a side project and doing it full-time is different. I need to adjust my attitude.
And that's why I'm here today. I need to think about how to assemble these pieces I like into a financially sustainable situation.
That's why I have to talk about something I haven't talked about yet. It's the M-word.
Money.
The thing is…
I don't like to think about money. I don't want to optimize my life and work around money. Money is annoying. It takes attention from things that matter more.
I mean, when you're enjoying a ride in your favorite car, you don't want to think about its fuel. You're not there for the fuel. You're there for the ride.
I have various experiences with money.
Years ago, I co-founded and left a successful business because I hated making most decisions on profitability. And I've also once come closer than comfortable to having $0 in my bank account.
My relationship with money works best when I can forget it exists.
The problem is, even if you don't like to think about fuel or money, if you run out of either, you're fucked.
So the million-dollar question is:
How to keep enjoying what I'm doing while making enough money?
Money is a ladder
I see money as a ladder. A ladder that helps me climb a wall – takes me where I want to go. So I need to make sure my ladder is long enough.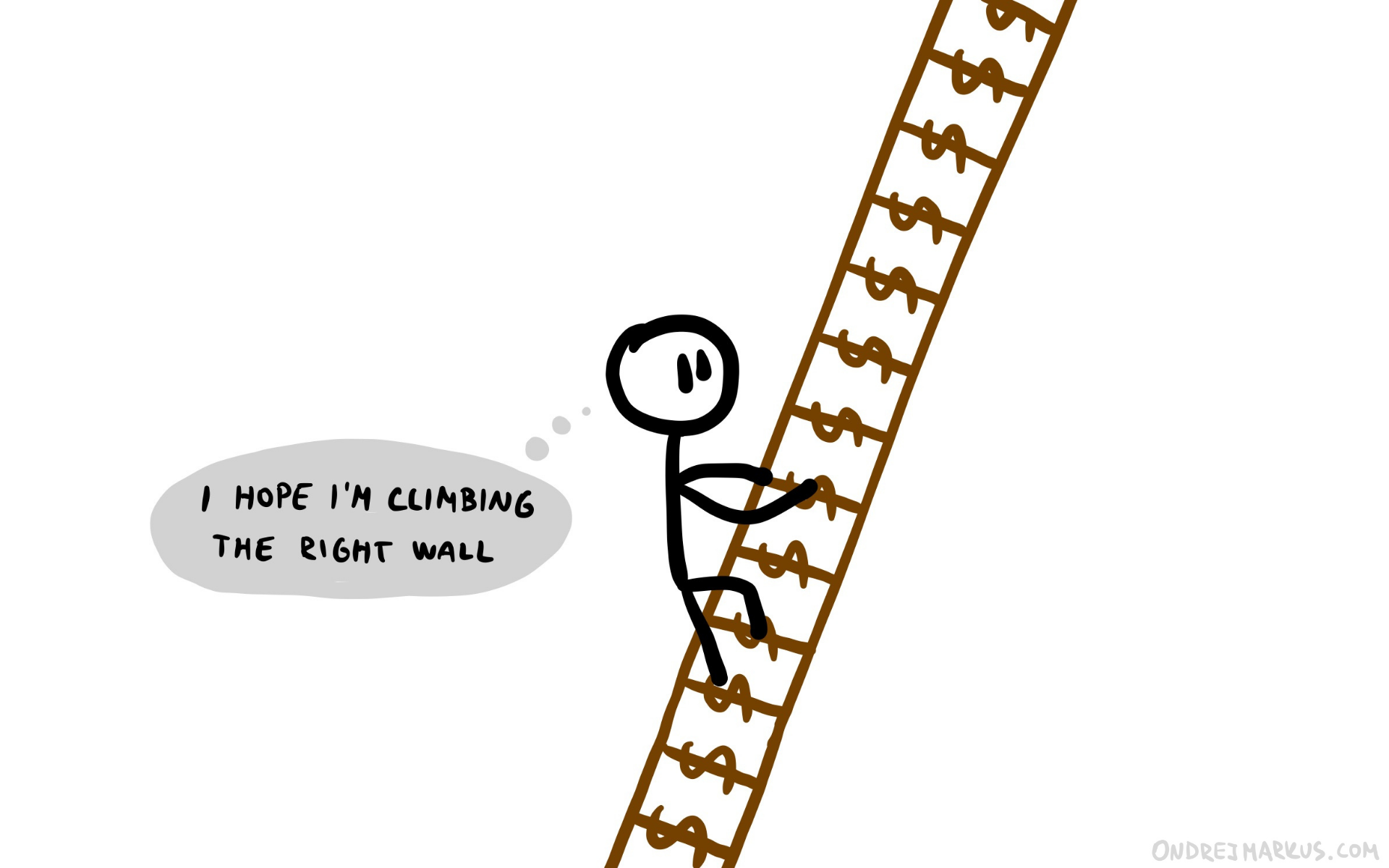 The good news is, my ladder is long enough for now.
Let's talk numbers. This is my current money situation:
Total savings
~ $9.290
Income
Solopreneurship: $0 /month
Innovation lab (a university course I co-run): $450 /month
Expenses
~ $1.000 /month (avg. of the last 12 months)
Money ladder equation
9.290 / (1.000 - 450) / 30 = 507 days
This means that if nothing changes, I have 507 days to make a living before I run out of savings.
Of course, things change, and I wouldn't want to come close to $0 again. That's a stress I don't need.
Luckily, I have options.
It seems like I will get an opportunity to create new courses at the university this fall. So my teaching gig will go up to double or triple $$ if I want it to.
At that point, my money ladder would go from 507 days to infinite working on the same topics at the university as I do here. I'd be basically paid to do research in entrepreneurship, life design, and writing.
Although, I don't want to rely on the university too much. I want to use this extra breathing space to make a living from my own online business.
So the goal is:
I will make my online solopreneurship financially sustainable in the next 12 months.
This means a minimum monthly profit of $1.000.
How do I get there?
As I see it:
Money is a product of good work well distributed.
I'm working on both.
Shipping good work
Good work is on the overlap of what I do well and what others need.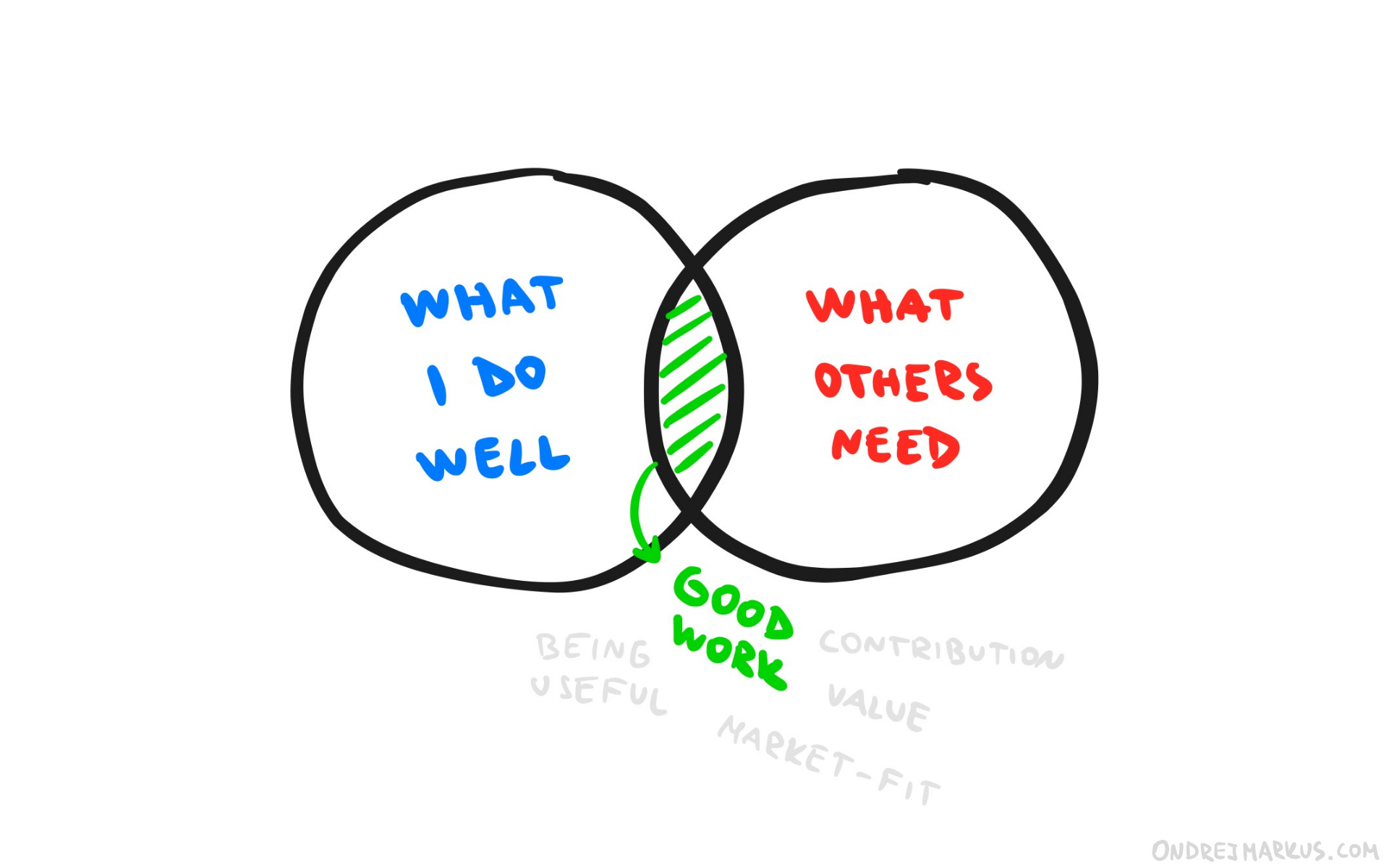 My problem is, I struggle to pin down what others need in what I want to do.
I've always been a generalist, and I can't (don't want to) commit to a very niche area. I need the space to learn new things, jump around, and go meta.
In June, I landed on 'Life Design' as a good enough label for my work. It embraces several big questions like:
How to find fulfilling work?
How to build satisfying relationships?
How to manage yourself?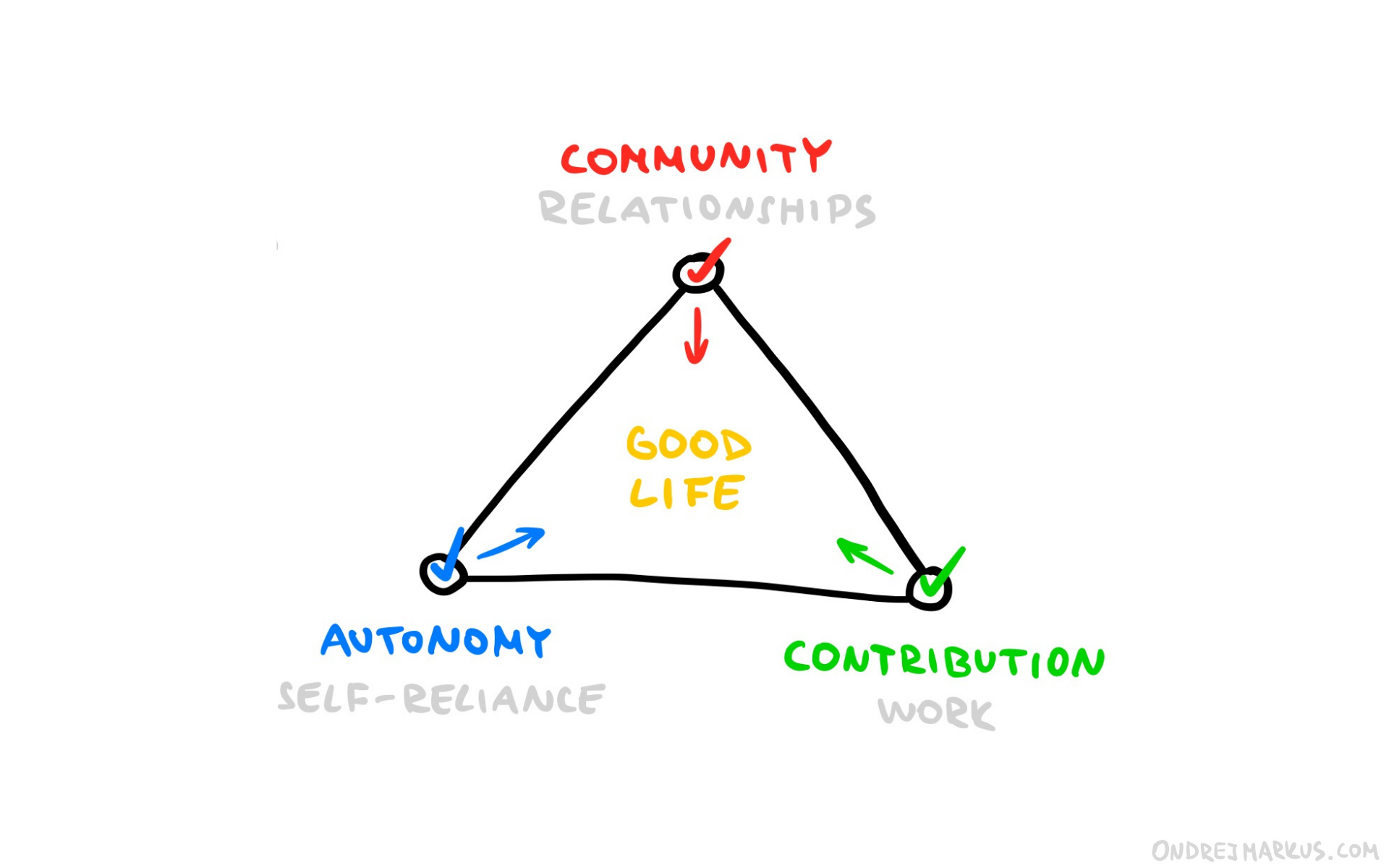 These are huge questions. And I struggle to find the rights words to explain what value I'm trying to create for others without sounding too pompous and self-help-y.
This shows on my web and Twitter bio. They change often as I'm trying to pin down the core of what I'm doing. And I'm not happy with them yet.
I also feel this uncertainty in how I choose projects. I mostly decide what to work on by what feels right. I follow my own curiosity and problems, and I solve them.
There's nothing wrong with that. But if I want to make my living doing this, I need to level up. I need to find ways to turn these solutions into products other people understand and want to pay for.
Not immediately, but soon.
Ideas for paid products
Course or mastermind group – I have experience running a cohort-based course with 50+ builders at the university. Turning that know-how into a paid thing shouldn't be that hard.
Notion templates – I use Notion every day for my knowledge/project management. And I noticed a trend in selling templates on Gumroad. I have a couple of ideas for personal productivity and life design workbooks.
Coaching 1:1 – Very secondary option. I wouldn't want to coach more than 1-2 people at a time. It takes a lot of energy from me. And I don't want to brand myself as a coach. So I'd consider it only if someone came to me first. (Also, it's technically not a product.)
Am I missing something? Tell me.
Work in progress
Design your life with Courage to be Disliked – I spent over half of my time in June writing this article. It started as a summary of the book, but it's turning into a guide for designing good relationships.
Shipped in June
What the work happened #5 – I'd like if these reflections took less time to write. But I can't help myself turning them into something that takes days to edit. I want them to be good.
Twitter threads
Now let's look at the second part of the money equation – distribution in a network.
Building a network
I think about distribution mainly as the strength of my network:
Network = Trust x Connections
Trust is the quality of relationships in the network.
Connections are the number of relationships in the network.
In other words, people buy things from people they trust. And they recommend those things to friends.
Distribution is my biggest weakness at the moment. There are two channels I use worth talking about. Well, more like one and a half.
The half is email. I have a newsletter people can subscribe to, but I only send out these reflections right now. There are 20 subscribers.
I haven't done much with email yet, and I'm not sure what to do with it so it's sleeping for now.
My focus goes in a different direction – Twitter.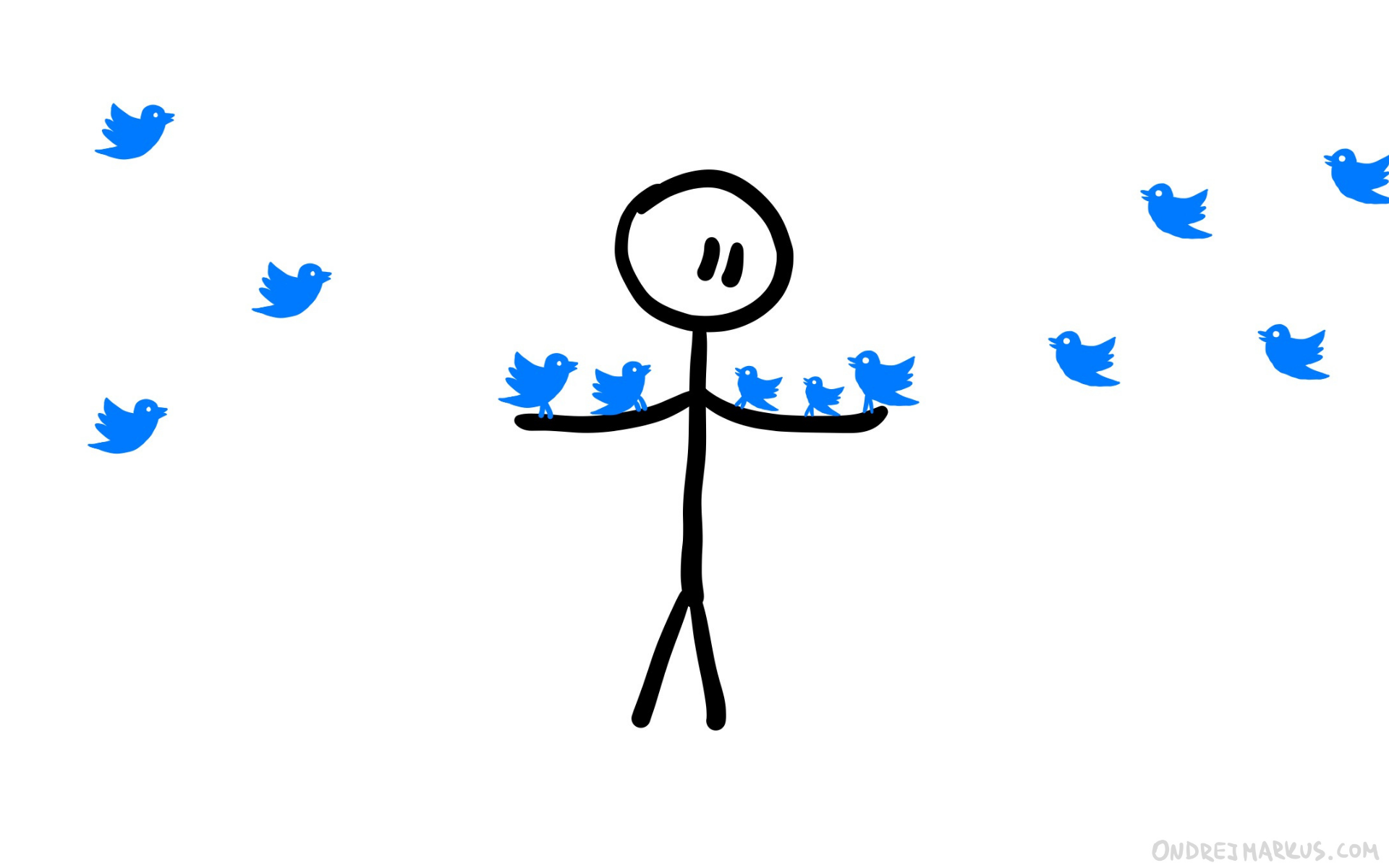 Why Twitter?
A) Twitter is better for learning because people interact more than on email. It's more like having conversations than broadcasting (if you use it that way).
B) Twitter is better for meeting new people to grow your network because they're already there. Especially if you start at zero, which I did.
I've been lurking around Twitter without engaging for a couple of months. I couldn't find a way into it because I normally don't use social media at all. The experience felt alien to me.
But with tiny steps, I started to like it. Nevertheless, I'm still very much a Twitter noob.
Here is a list of things I tried on Twitter in the last month and how they worked for me.
What worked
Joining a community ✅ – I joined a Public Lab community to find like-minded builders which really helped me get the ball rolling. Twitter feels huge when you're there alone, so it's nice to find a smaller bubble to join.

Zoom calls ✅ – Reaching out to people I like and inviting them for a short 1:1 Zoom. It surprised me how much of a difference this makes. It's magic. When you talk to the person behind the avatar, it builds a real connection. Twitter is no longer just profile pictures saying things in an infinite feed. It's real people.
What didn't work
Daily tweeting goals ❌ – My tweeting is all over the place. I'm still insecure about what and when to share. Often I just don't feel like saying (tweeting) anything. Should I schedule in advance? Should I tweet anyway? I don't know. I'm going to experiment with this.
Not sure what to think about
Replies to big players ⁉️ – I tried reacting to tweets from big accounts with something useful to add. I did this a couple of times, but even if someone follows me, it feels random. When I reach out to them, they often don't reply back, and these 'followers' never seem to respond to my tweets anyway. This is one of the things which make follower count feel like a vanity metric. The quality of relationships seems much more important.
This problem with 'follower quality' means it's hard to measure progress in network-building. The follower count on Twitter feels misleading.
It signals credibility but doesn't have to mean much else. I see accounts with 10k followers get only 2-3 responses on their tweets. While some accounts with 1k followers get 50.
Maybe once you look like 'a real deal' having over 500 or 1000 followers, you can stop worrying about the number.
Twitter analytics in June

The thing that seems low is the conversion rate from Profile visits to Followers (~ 1 %). It would probably improve if I had a better bio and cover. That's something to work on.
---
To sum up
I have 507 days to make my online solopreneurship financially sustainable. (Get to $1000 /month.) But I aim to reach it in 12 months.
Solving money is on my schedule, but learning remains my priority. I won't rush monetizing what I do if it meant I'd no longer enjoy doing this.
July will be about finishing Courage to be Disliked guide, connecting with people on Twitter, and prototyping paid products.
---
That's it for June.
A few things before you go:
If you've enjoyed this, share this link with a fellow builder who's on a similar journey: ondrejmarkus.com/jun21
Also, email me to say hello and tell me what you liked or didn't like. I have no idea what is good anymore.
P. S.: I've written this while listening to this song on repeat for hours. Don't read too much into it. I don't.
Have a good one.
Bye 👋