As every year, I went through my journals to understand the happenings of the last 365 days. This is the first time I share some of it online.
But let's do this differently.
What I don't like about shared reflections is the polish.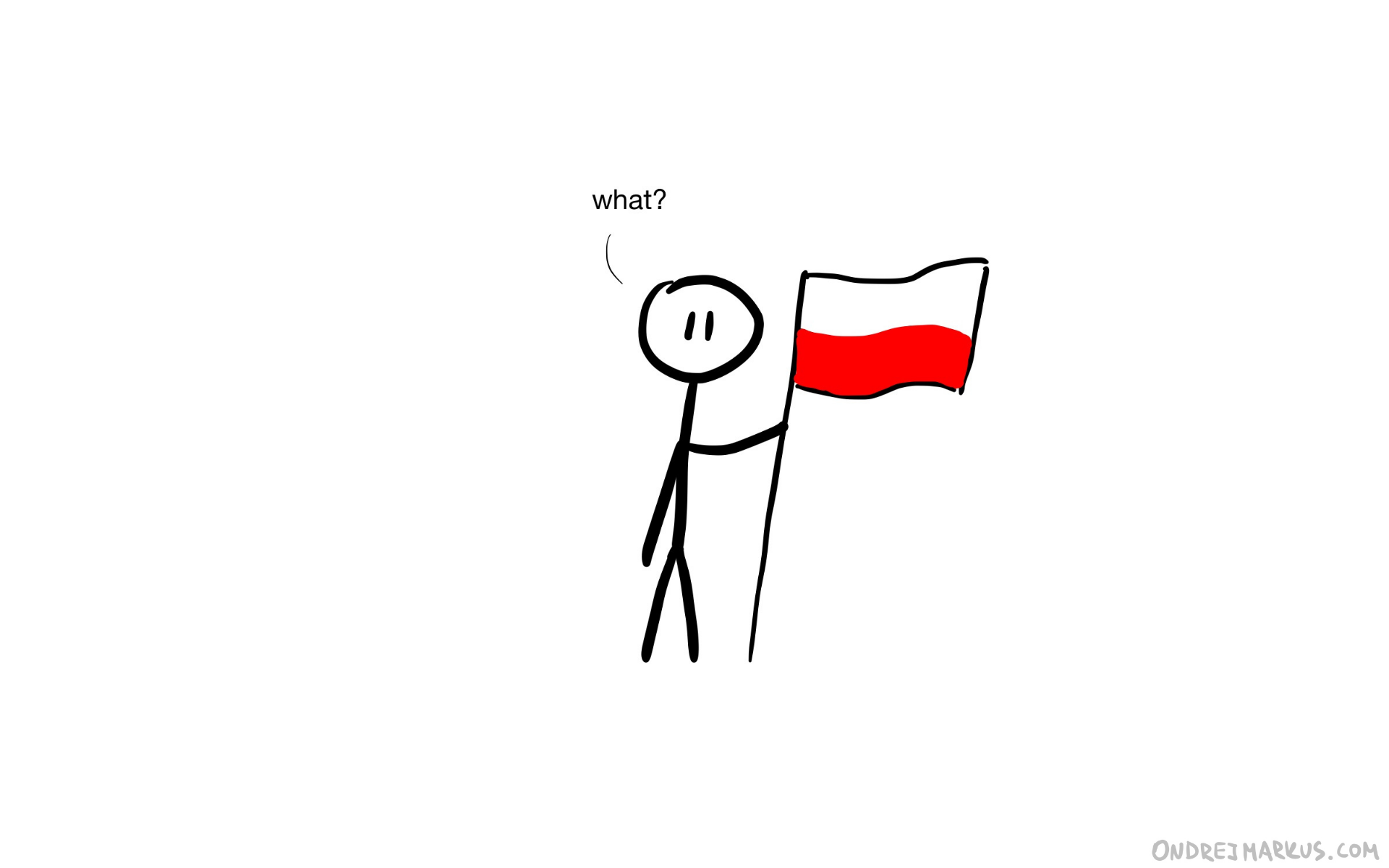 Not this Polish…
The polish is the shining process. It's leaving out the failures, hiding what didn't work, and pretending it doesn't exist.
Not here.
This reflection is about looking at the messy process of making stuff. How I made those few things that are somewhat okay on piles of work that's pretty bad.
Why do this?
I believe that people should know it's okay to make bad work. It's okay to experiment and try new things. And it's okay not to even know what the hell are you trying to make half of the time.
This year, I knew very little about what is going to happen next. Let's talk about that. We don't talk enough about uncertainty. We always judge things after we know what happened. We leave out what didn't work, ignore the mess, and only talk about the results.
This is a true review of what was going on with my work-life in 2020.
What happened in 2020
From writing as a hobby to writing as an (unpaid) professional
In January 2020, I was making my living as a full-time designer. Writing wasn't even on my radar. My year was freshly planned out to get better at being a UX designer.
But just days later, I realized I don't enjoy doing work for clients anymore. Yikes.
Plans got thrown out the window, and I began speculating about what to do about it. And me being me, I started building a complex framework to solve this problem.
I researched the topic and planted post-its all over my walls. And somewhere in the middle of that, I decided to make this framework public, and not just for myself. I imagined that explaining to others how to find more meaningful work is the best way to understand it anyway, so why not?
So during February and March, I wrote the 4-part guide for finding meaningful work in my free time. It almost killed me to finish it because it had over 10 000 words. But I made it, and I was excited to start something else.
For the very first time, I seriously considered: What if I just did this? And after some thinking, I switched to part-time design and part-time writing to see what happens.
Heh. I had no idea what I'm signing up for.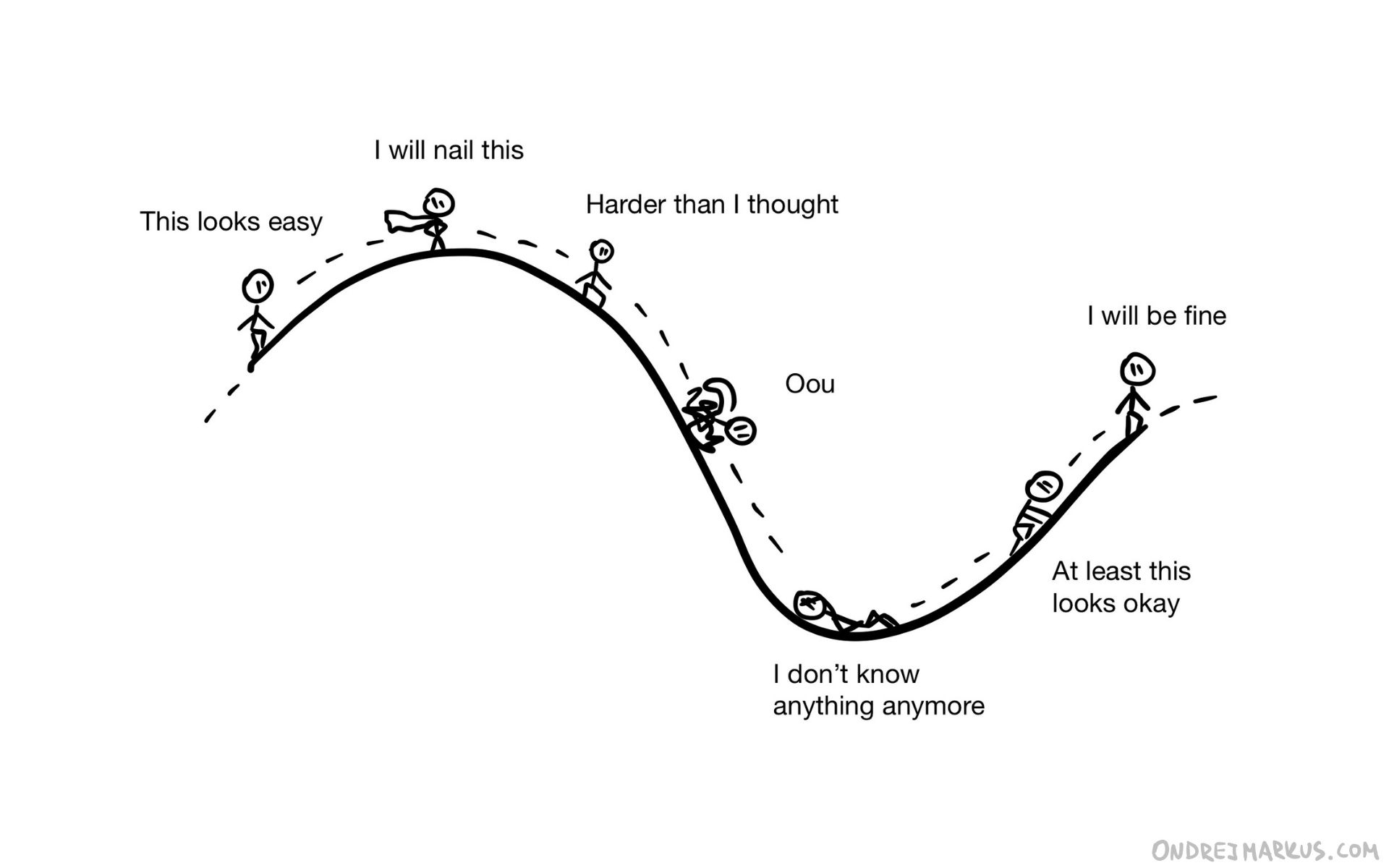 Welcome to the dip
Right after finishing the first project, I fell into a creative dip. I dropped 3 or 4 bigger projects halfway in the next 2 months. I had nothing other than piles of unfinished drafts to show for hundreds of hours of work. I felt discouraged.
When I saw this isn't working, I changed my game. I experimented with shorter articles to make things easier, but the dip continued. I was writing every day for hours but couldn't complete a thing. Whatever I wrote seemed terrible compared to other stuff online. I would always drop the project once it got too messy. Maybe I am not supposed to write after all?
I was living the painful reality of being a better writing critic than I was a writer. It's annoying when you can tell how bad your writing is.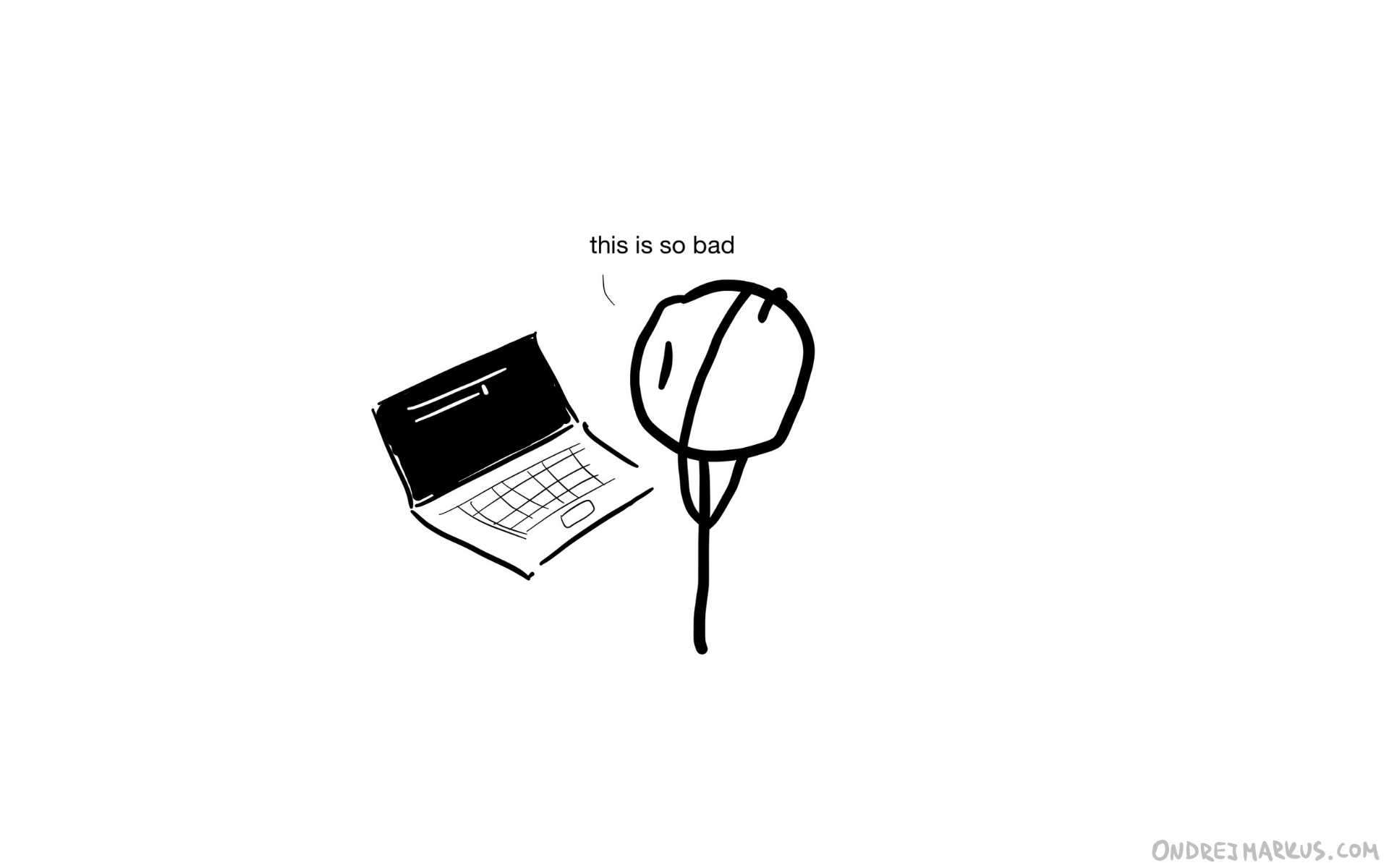 But strangely enough, I still enjoyed the process. So I just kept writing articles I didn't publish. And when I would publish something, I took it down a week later. Then I would rewrite it three times and not put it up again. Fun times.
Months later, during the summer, my frustration pushed me to finish two or three short articles. But I continued to fail to ship work on time. My ambition was to finish something every week, then two weeks, then three… I continually made up some good reason not to publish. There always is one.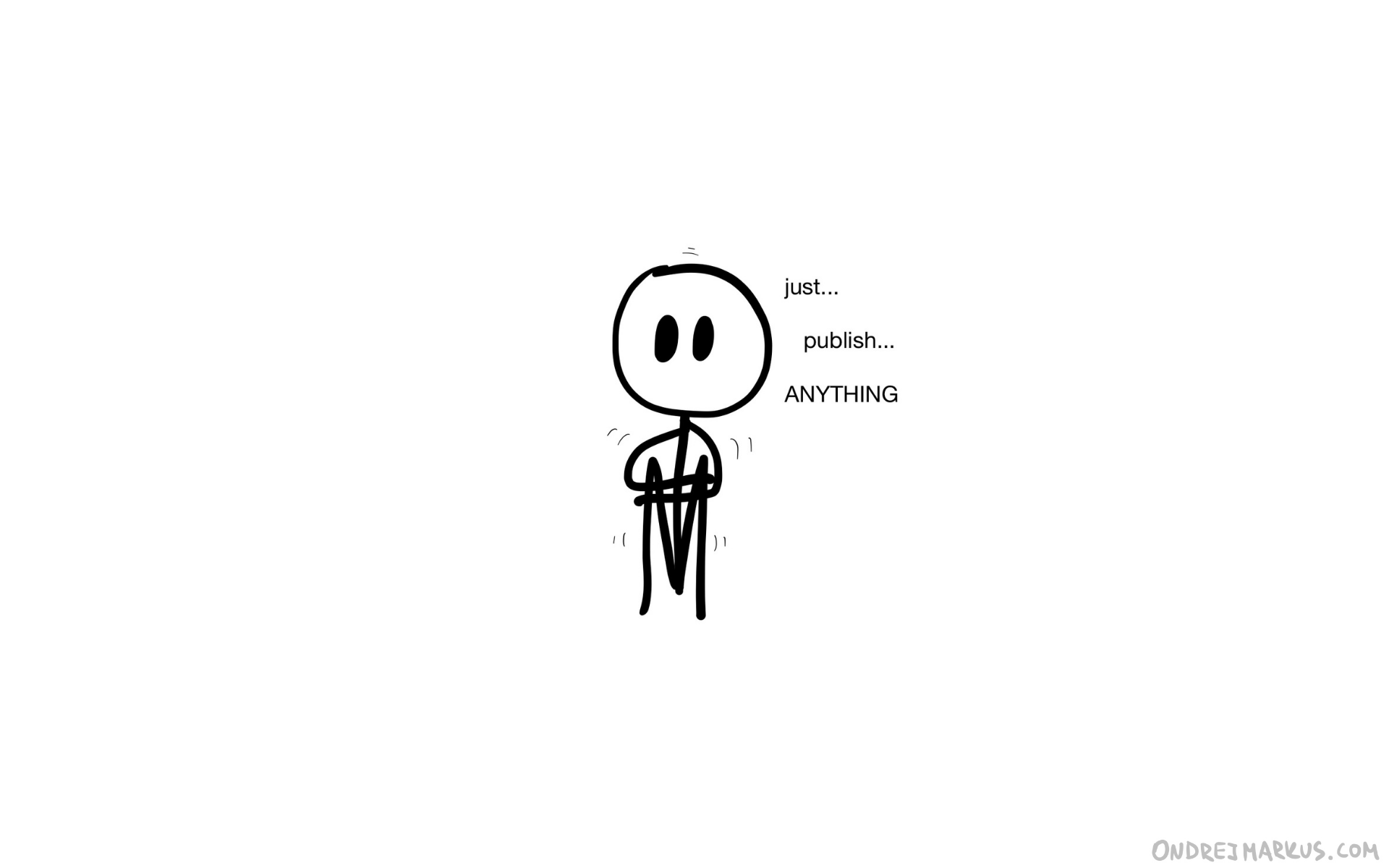 Going (almost) all in
My response to my inability to ship work was to reduce my design job to one day a week (the minimum required to financially sustain myself) and focus on writing.
I had money saved up to live without income for over a year. But I feared that would create unhelpful pressure on me. So I decided to keep at least the minimum required income to cover my monthly expenses.
The strategy was to brute-force my way through. I'm very impatient with results, so I tend to either quit things or push for progress. In this case, I pushed.
A valuable thing was to regularly talk to friends who also tried to write consistently. We helped each other build momentum and held each other accountable.
So finally, in October and November, the situation turned a little brighter. I shoved more work through the wall of perfectionism than in all previous months. And I continue to write that horse.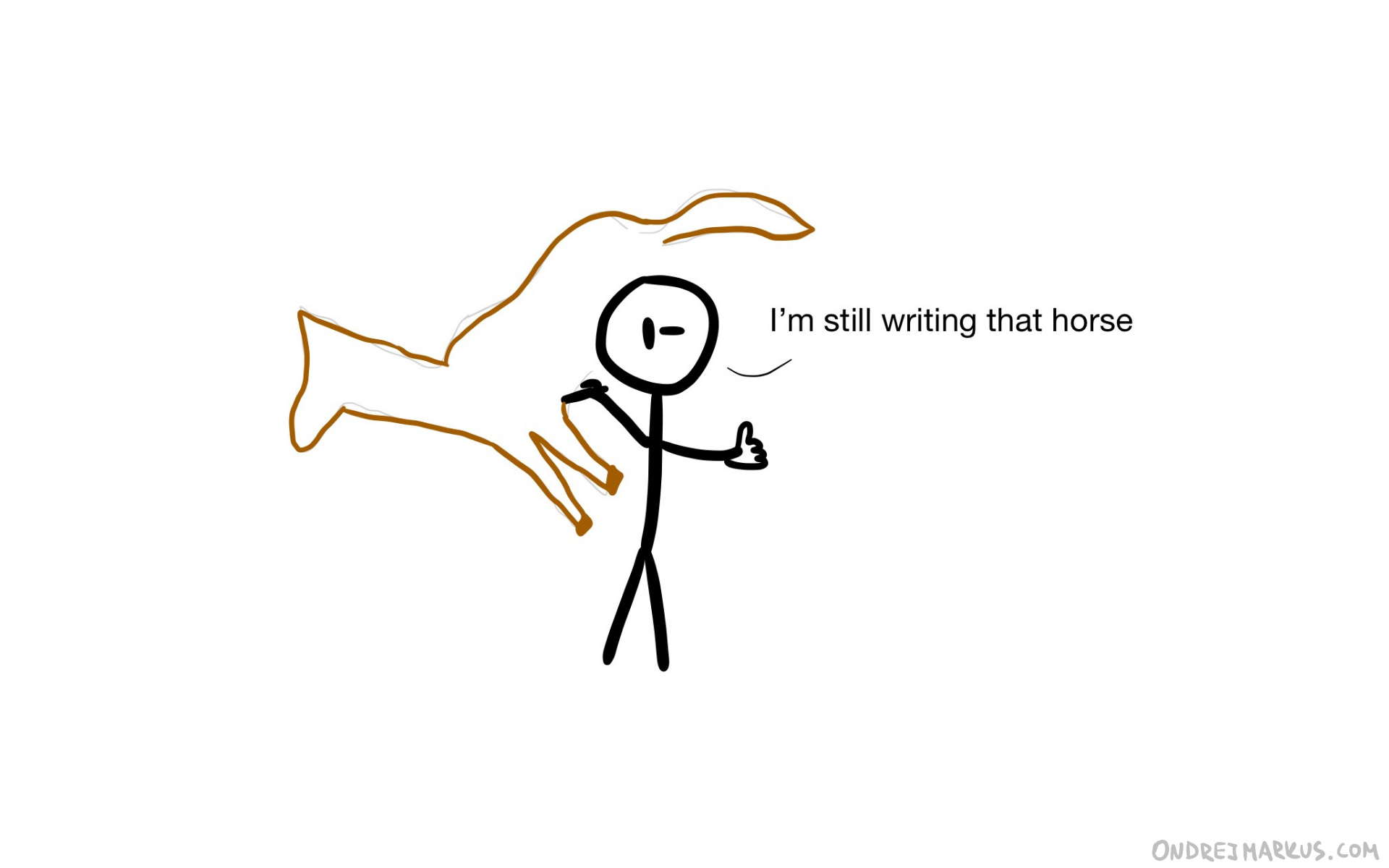 My graveyard of work
In 2020, I did some okay work but much more bad work that made it possible.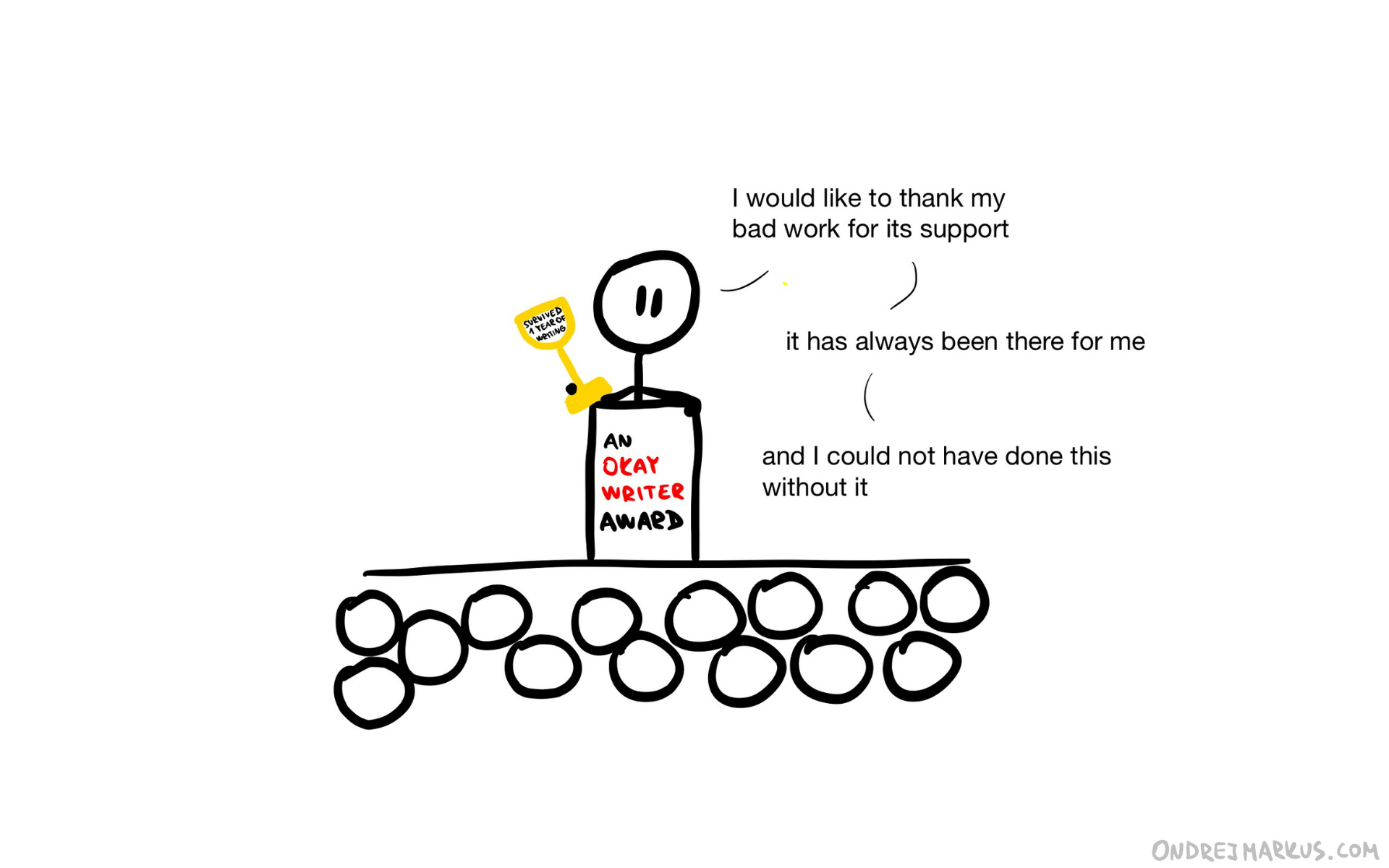 These are projects I started but never finished. I've spent 30+ hours of work on some of them. Ouch.
Living space design – An essay/guide about how to design your environment (physical/mental/digital) and why it's important to do so. (Failed because it was too big.)
How innovation works – A long essay about the definition of what innovation is and how to do it. (Failed because it was too big.)
Horizontal relationships – An article about how to build better peer-to-peer relationships both in organizations and in personal life. (Failed because I didn't know what I wanted to say, I guess.)
The art of deep work – A guide/article with my framework for maximizing deep work and how to decide what project to do next. (I published it and later took it down, rewrote, and decided it's not good enough anymore.)
My life system – A description/guide of my working system (routines, habits, journaling, etc.) and how to make something similar. (Same as deep work.)
Ask better questions – A short article about why asking better questions is more important than just looking for answers. (Same as deep work.)
Dissatisfaction is underrated – A short article about how expectations can make you dissatisfied with anything, and how to use them to your advantage. (I completed this one 3 or 4 times and still didn't think it's good enough so I just moved on eventually.)
Understand feelings with words – A short article about how to understand your feelings by labeling them with words.
… plus a dozen more first drafts of projects I never pursued further than that, so they don't really have a name or a clear concept.
Things I actually finished and published
(From oldest to newest.)
Okay. But what all this means?
The point of this is to highlight the fact that for every published project I had at least two abandoned. That very good work only grows on even more bad work. So don't hesitate to do some bad work. The bad work is your learning buddy.
Of course, I'm not saying any of my work is very good. At least not yet. Half of the stuff I've published I'm already quite ashamed of. But I see that as a good thing. It means I'm improving quickly and that's what matters. The sooner this year's work will seem awful to me the better.
Also, I promise I won't take the bad work down anymore. I believe makers should let their bad work hanging out there for other novice makers to see that it's okay to be bad when you start making things. So I'm gonna fight my inclinations to take down the work I'm increasingly more ashamed of. And do my best to keep it online forever.
What's going to change
From writing to whatever comes next
I left out one major realization until now: My view on writing has changed in the last few months. And my work will change with it.
In 2020, writing and becoming a writer was the goal. But as I experimented with illustrations and learned more about making comics, I realized that writing is just one tool in a toolbox. The goal is always to solve a problem or to say something important. And the question is: Which set of tools is best for this particular job?
That's the reason why the shape and form of my upcoming work will probably change more often. I want to make things more interactive and playful. Following what feels fun to do seems like the most sustainable strategy for improving right now. Also, it's the best way to pull off bigger projects.
I will learn to code in JavaScript and improve my illustration skills to add them to my toolbox. This blend will probably resolve into some kind of interactive essays/games that help people learn stuff. It's called edutainement.. edutainment.. edutenament.. I don't know. It's a complicated word.
I get it, now the lessons please
I know, it's a long rant. Sorry. I'm gonna wrap this up.
This last thing is a summary of what I want to remember from this year. It's the lessons I got not just from writing but creative work in general.
Summary
You will only know if you really want to do something after you try it. (I didn't know I wanted to write until I started writing the work guide, and it surprised me. Spend more time trying things you might like.)
Make things that solve your own problems. (Writing the work guide was difficult but doable because I really wanted to finish it for myself. Later, I tried to push myself to write things "just because" and it didn't work at all.)
Don't hesitate to do bad work. (You need to practice to get better. I'm afraid there is no way around just being bad for quite a long time. It helps to choose things you enjoy doing despite poor results.)
Follow the fun. (Sometimes, things don't have to solve problems, but they are really fun to make. So when you think "it would be really cool to turn this section into a comic strip", do it. Why not? If you follow the fun in your work, it will take you places you didn't expect, but you'll be glad you got there.)
That's my 2020 work-life in a nutshell.
Now, I'm off to make some slightly less bad work.
Bye. 👋
---
Before you go:
Please email me about your graveyard of bad work. I'm curious. What you did this year that didn't work, and what have you learned from it?
If you would like to hear about my projects as they arrive, add your email to my private mailing list. No spam, no ads (I don't sell anything.) It's just a once-or-twice a month email with the newest bits I made.